Victoria L. Golden, Director & Senior Appraiser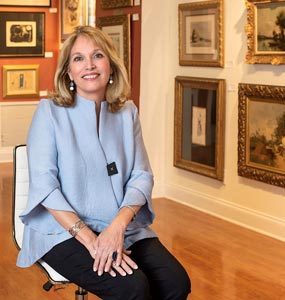 Victoria has been an accredited appraiser with the International Society of Appraisers for over 25 years. Her keen sense of quality and integrity creates a wonderful gallery of consigned pieces from Antiquities to Contemporary Art. The gallery specializes in 18th, 19th and 20th American and European Fine Art.
Certification by the International Society of Appraisers (ISA) requires intensive training, testing, and adherence to strict ethics and quality standards. She has also obtained a certificate of achievement from The American Society of Appraisers (ASA) for being one of the first to be certified in Uniform Standards of Professional Appraisal Practice (USPAP) and has attended many symposiums with Appraisers Association of America (AAA).
She has provided donation appraisals and consultation for such museums as: The Harn Museum of Art, Tampa Museum of Art, Ringling Museum of Art, The Appleton Museum, The Museum of Natural History and the Lightner Museum. She has been referred by The Metropolitan Museum of Art.
Victoria has served on the Board of Directors as President for the Palm Beach/Ft. Lauderdale Chapter of the International Society of Appraisers. The chapter's role is to provide educational programs and resources to increase knowledge and expertise with the goal of appraisal excellence.
Victoria has been involved with archaeology in Central and South America since 1975. She worked an archaeological site in New Mexico in conjunction with The Smithsonian. She has been involved in archaeological and anthropological projects in Guatemala, Peru, and Bali. She has led groups to Greece, Italy, Ecuador, and China. Her great love of fine art, antiquities and artifacts have kept her involved in many organizations and educational programs. She has been initiated to the renowned Explorers Club (one of 12 selected Internationally in 2011).


Alexander S. Golden, Manager & Appraiser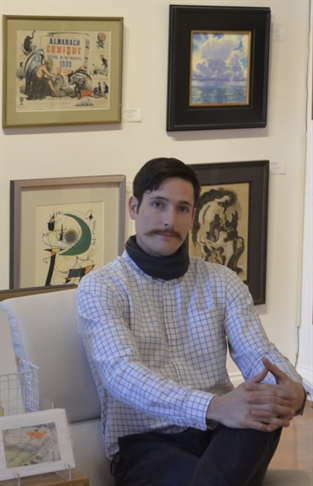 Alexander, also a Fine Art Appraiser manages Lost Art Gallery and sister gallery Sea Spirits Gallery, next door. He has a strong art history background and makes the experienced collector or novice comfortable with his charming presence and knowledge of the wonderful history or story of each special piece.